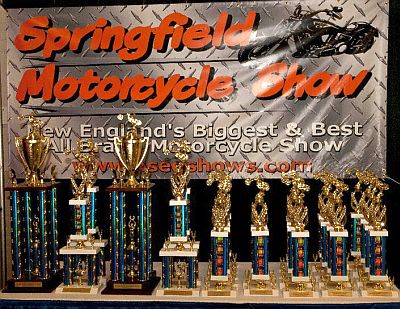 The Springfield Motorcycle Show is a high-end, top shelf motorcycle event that brings together a great combination of bike builders, manufacturers and retailers in a rocking atmosphere that delivers fun and enjoyment for the whole family! Mark your calendar for January 17-19, 2014. This three day mega event is the ultimate one-stop shopping experience for both future riders and active motorcycle enthusiasts.
Our retail show is filled with the new bikes of the season, all of your favorite used models as well as the latest motorcycle parts for all the popular brands and of course a ton of cool bike accessories. In addition you can find all the best riding gear and apparel in a vast assortment of colors and sizes.
In addition to all of the shopping opportunities for bikes and motorcycle gear, the show is packed with fun features. Here is a lookat some of the highlights: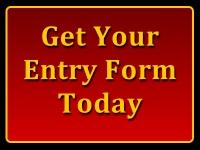 It is time to get your entry form in for the 2014 Bike Competition! Do you have what it takes to win?
This highly anticipated event draws bike enthusiasts from all over. Participants enter for cash prizes and the honor and bragging rights associated with winning the Northeast's Top All-Brand motorcycle event!
The motorcycle competition is judged by a select panel of industry judges as well as the public under the "People's Choice" category, so come down to the show, see the bikes and vote for the winner!
We would like to extend a special thanks our long time sponsor, the Haymond Law Firm.
This year the Haymond Law Firm is sponsoring both of our big motorcycle events:
The 2014 Bike Competition and the Best of the Best Build-Off!
It's back ... The Northeast "Best of the Best Build-Off! We are excited to be bringing another great build-off competition to the Springfield Motorcycle Show. Our past Biker Build-Offs were a lot of fun and this year's competition will be even better.
Who will be selected as this year's "Best of the Best?" You will have to come down to the show and find out. The competition is going to be strong. As always, we'll have four great builders, but only one will be honored as the Northeast's "Best of the Best?" Come to the show and find out who will earn the top prize.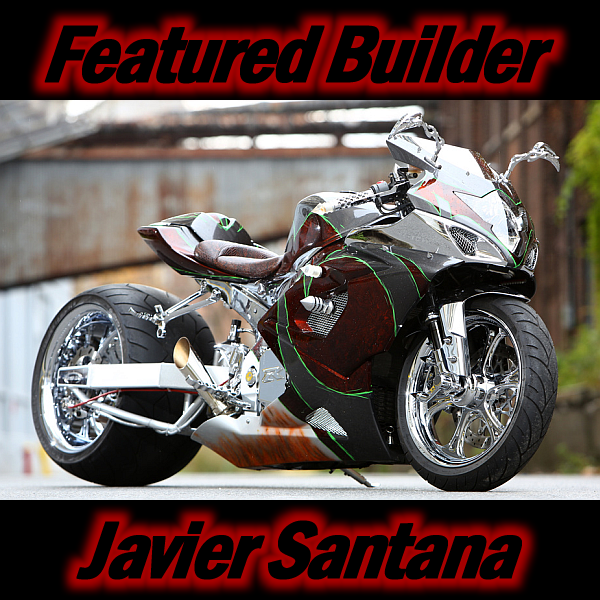 Javier Santana of JS Custom Cycles is coming to the Springfield Motorcycle Show!
We are very excited to have this well respected builder from Amsterdam, New York on our show floor as a featured builder.
Javi has been getting lots of attention in the motorcycle world for his inovative customization work.
Recently he was profiled in the pages of Super Streetbike.

We are always on the look-out for rising talent and we are very excited to have Javi and his crew with us at the show.
You are in for a visual treat!
Ride a Harley-Davidson® at the show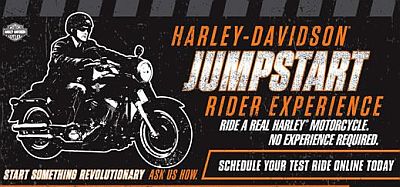 Harley-Davidson of Southampton is bringing back a special event to the Springfield Motorcycle Show called JUMPSTART.

Never taken a ride on a Harley-Davidson? Now's your chance
... even if you have never been on a motorcycle before!

It's called JUMPSTART. You can ride a real Harley®!

It is the perfect way to show future, new, and experienced riders what an authentic "Harley," riding experience is all about.
JUMPSTART shows you how much fun it is to ride a Harley-Davidson®.
If you are ready to make your dream of riding a Harley® a reality, head over to the JUMPSTART experience at the Springfield Motorcycle Show and meet the folks from Harley-Davidson of Southampton!
We're not done yet.. Southampton Harley-Davidson is also going to reveal the hottest rider apparel at this year's Motorcycle Fashion Show with the assistance of the Haymond Girls!
The Haymond Girls
The Haymond Girls are coming to the Springfield Motorcycle Show.
The girls have developed a huge following of fans. You'll find them at area bike rallies, shows and charity events representing the Haymond Law Firm and spreading the word about the joy of riding and being a part of the motorcycle community.
Ask them and they will tell you they love their job. So, be sure to stop by the Haymond Law Firm booth to meet the Haymond Girls and catch them during the Motorcycle Fashion Show as they show off the latest riding gear from Southampton Harley-Davidson!

Ms. SMS Competition
The Ms. SMS Competition was a huge hit with the fans last year, so we are bringing it back! Who will be the 2014 Ms. SMS? You'll have to come down to the show and find out.
Area women will don their favorite biker attire and vie for a cash prize on the main stage at the Springfield Motorcycle Show.
Ladies, it's time for you to bring your leathers and your attitude. Not only will the event be tons of fun, but one lucky lady will be selected as this year's Ms. SMS and will a cash prize!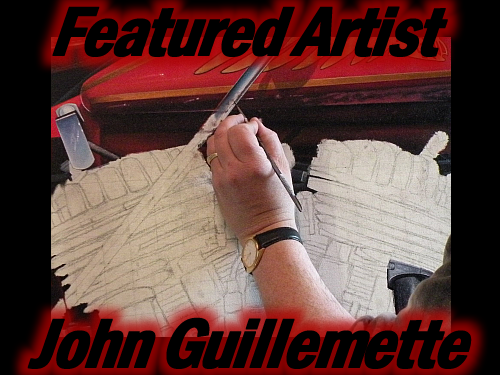 Featured artist John Guillemette will be working on his newest painting at the show. John is a well known motorcycle lifestyle artist who has received much acclaim for his motorcycle and chopper themed oil paintings.
John's paintings are so realistic, it is amazing the level of detail he can bring out in his work.
His art has been featured in numerous motorcycle magazines and can be seen at the Legend's Gallery in Sturgis, South Dakota. Come down to the show, meet John in person and see his latest creations.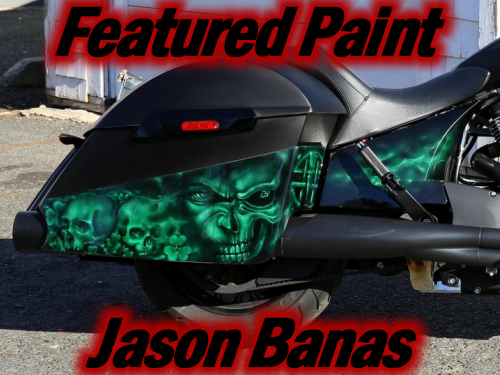 It is always exciting when we can bring new talent to light down at the Springfield Motorcycle Show. This year's featured paint artist only has a few years under his belt, but is already making waves around the area and we are excited to have him with us at the show. Jason Banas recently opened Backyard Kustoms out of Ludlow, Massachusetts and once you see what he can do, you'll quickly be scheming up visions in your head. So many possibilities!
We love it when we can bring new up and coming talent to the show. Before they hit the big industry magazines, you'll see them here!
It's all about the quality of the job. Jason and the other artists at Backyard Kustoms are comitted to exceeding customer expectations. Be sure to check out all their latest work down on the show floor.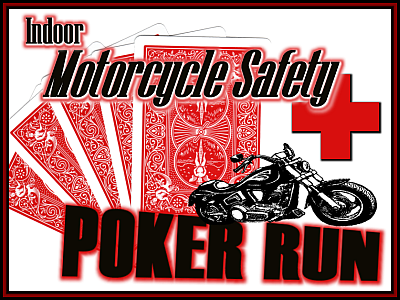 A special FREE event for all attending the show!

Ready to have some fun and maybe win a cool prize? Get in on the Motorcycle Safety Poker Run! This is a special FREE in-show participation event. Get the Poker Run Form, it's free to participate.

Attendees can win great prizes. The sponsor, First American Insurance of Chicopee is New England's leading Progressive provider.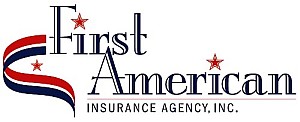 In addition to sponsoring the Motorcycle Safety Poker Run, they are bringing First American's own "Faux Flo", Jennifer Dolittle, will be on hand to pose for pictures and get folks started on their fun experience.

If you want to participate in this fun free event, just stop by the First American Insurance booth and get your poker run card, then head off to participating boths including:
MA Registry of Motor Vehicles
Mass Motorcycle Association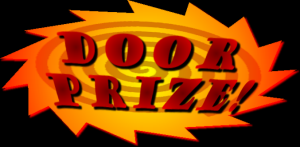 One lucky show goer will win a special prize just for attending the show.
Everyone loves to win a prize. Each year we find a special item to give away to our show attendees.
As we get closer to our upcoming show, we will post our door prize for this year's show.
2014 is going to be another great year! These are just a few of the highlights. There will be so much more to do and see while attending this year's big bike event!
We'll see you at the Springfield Motorcycle Show on January 17-19, 2014 at the Eastern States Exposition, 1305 Memorial Avenue, West Springfield. You know the place, it's the Home of the "Big E" It is going to be a great weekend filled with fun and excitement.