The Springfield Motorcycle Show is a high-end, top shelf motorcycle event that brings together a great combination of bike builders, manufacturers and retailers in a rocking atmosphere that delivers fun and enjoyment for the whole family! Mark your calendar for January 17-18, 2015. This two day mega event is the ultimate one-stop shopping experience for both future riders and active motorcycle enthusiasts.
Our retail show is filled with the new bikes of the season, all of your favorite used models as well as the latest motorcycle parts for all the popular brands and of course a ton of cool bike accessories. In addition you can find all the best riding gear and apparel in a vast assortment of colors and sizes.
In addition to all of the amazing shopping opportunities for bikes and motorcycle gear, the show is packed with fun features and events.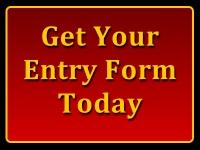 This year the Haymond Law Firm is sponsoring both of our big motorcycle events.
First up is the 2014 Bike Competition. It is time to get your entry form in. Do you have what it takes to win? This highly anticipated event draws bike enthusiasts from all over. Participants enter for cash prizes and the honor and bragging rights associated with winning the Northeast's Top All-Brand motorcycle event!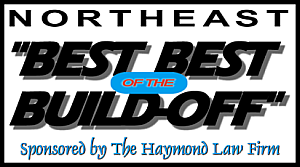 We like to call it the Best of the Best Build-Off and for good reason. Each year we seek out expert builders who are passionate about their craft, have a bold competitive spirit, and are truly masters of metal. This year we are planning a three way battle. The Haymond Law Firm will be sponsoring this incredible wrench fest and each day will be filled with excitement right up to the awards ceremony.
Are you ready for the big line-up? We are pitting
Jake Cutler of Barnstorm Cycles versus Justin Reid of Longwood Customs versus
Nick Beaulieu of Forever Two Wheels.
Let the battle begin! Come down to the show and watch this live event as the guys work throughout the show. Only one will be honored the Northeast's "Best of the Best!" Who will it be? What will they build? There is only one way to find out. Head down to the motorcycle show and catch all the action!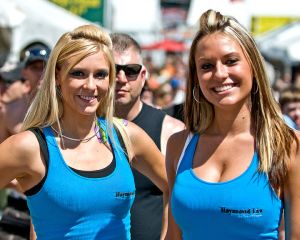 The Haymond Girls are coming to the Springfield Motorcycle Show.
The girls have developed a huge following of fans. You'll find them at area bike rallies, shows and charity events representing the Haymond Law Firm and spreading the word about the joy of riding and being a part of the motorcycle community.
Ask them and they will tell you they love their job. So, be sure to stop by the Haymond Law Firm booth to meet the Haymond Girls and catch them during this year's Motorcycle Fashion Show!
That's right you can be a part of the show! Leslie of Lazer 99.3 will be your MC for this wild event that is always a big crowd pleaser. It's time to show off your ink. This year, the competition is sponsored by City Limits. Be sure to stop by their booth and check out all of their merchandise. They carry name brand apparel, tobacco products, artwork, tattoo products, incense, jewelry, fine art, posters, and so much more!

So if you have a tattoo, we want you to show us your ink! Who knows you may become this year's winner of our Tattoo Competition.
This year's show will be here before you know it. Check back often as we'll be posting more content as we get closer to the show.
Like to know what you can expect when attending one of our shows?
Check out the content from last year's show.

_________________________________________________________________
All of the information below is from the 2014 Springfield Motorcycle Show
_________________________________________________________________

Baseball fans take note! The World Series Motorcycle will be at the Springfield Motorcycle Show on Saturday in the SharkCycle Sales booth right as you enter the show.
Come down and see this special Boston Red Sox tribute bike which is known as the 'Curse Breaker!' The bike originated out of the kindness of Curt Schilling, who was looking for a way to raise funds in support of Amyotrophic Lateral Sclerosis (ALS) Melanoma research and patient care.
If you love the Red Sox, and we know you do, this will be one of the great highlights of this year's show. Come down and see all the famous signatures on the bike and get a picture of it with you and your friends! The World Series Motorcycle will be in the Shark Cycle Sales booth on Saturday. While you are their you can take a look at all of the new Victory motorcycles on display.
The Great Paint-OFF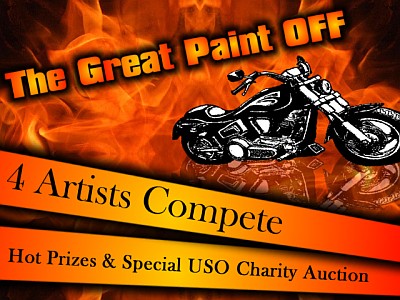 New for 2014 will be a special paint competition! This year, four great paint artists will compete live during the show. One will come out on top in our Great Paint Off! Who will be our master of paint?
In addition to the competition, these artists will work together on a unique masterpiece. An original one of a kind piece of artwork. It's going to be amazing and best of all, we are providing an opportunity for you to take it home with you! In support of the USO, we will auction off this incredible masterpiece to the highest bidder!
Sunday is when all the excitement takes place. We announce the winner of our Great Paint Off and we'll be auctioning off their team artwork in support of the USO!
This will be a fun event and a great way to support our troops. The high bidder will be writing their check directly to the USO.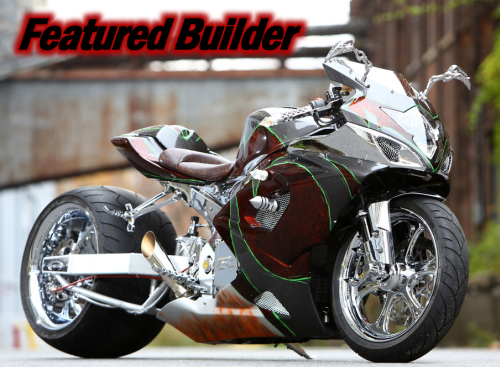 Javier Santana of JS Custom Cycles is coming to the Springfield Motorcycle Show!
We are very excited to have this well respected builder from Amsterdam, New York on our show floor as a featured builder.
Javi has been getting lots of attention in the motorcycle world for his inovative customization work. Recently he was profiled in the pages of Super Streetbike.
We are always on the look-out for rising talent and we are very excited to have Javi and his crew with us at the show. You are in for a visual treat!
Indoor Motorcycle Safety Poker Run
Ready to have some fun and maybe win a cool prize? Get in on the Poker Run! This is a special FREE in-show participation event. Grab your form and get in the game.
Attendees can win great prizes. The sponsor, First American Insurance of Chicopee is New England's leading Progressive provider.
In addition to sponsoring the Motorcycle Safety Poker Run, they are bringing First American's own "Faux Flo", Jennifer Dolittle, will be on hand to pose for pictures and get folks started on their fun experience.
If you want to participate get your Poker Run sheet here or just stop by the First American Insurance booth and they will give you a poker run card, then head off to participating boths including: Pioneer Valley Rider Training, MA Registry of Motor Vehicles, and the Mass Motorcycle Association.
It is always exciting when we can bring new talent to light down at the Springfield Motorcycle Show. This year's featured paint artist only has a few years under his belt, but is already making waves around the area and we are excited to have him with us at the show. Jason Banas recently opened Backyard Kustoms out of Ludlow, Massachusetts and once you see what he can do, you'll quickly be scheming up visions in your head. So many possibilities!
We love it when we can bring new up and coming talent to the show. Before they hit the big industry magazines, you'll see them here!
It's all about the quality of the job. Jason and the other artists at Backyard Kustoms are comitted to exceeding customer expectations. Be sure to check out all their latest work down on the show floor.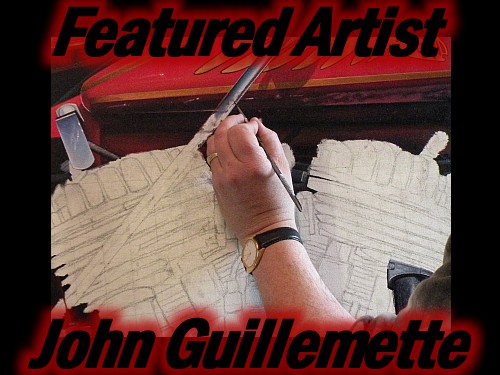 Featured artist John Guillemette will be working on his newest painting at the show. John is a well known motorcycle lifestyle artist who has received much acclaim for his motorcycle and chopper themed oil paintings.
John's paintings are so realistic, it is amazing the level of detail he can bring out in his work.
His art has been featured in numerous motorcycle magazines and can be seen at the Legend's Gallery in Sturgis, South Dakota. Come down to the show, meet John in person and see his latest creations.
These are just a few of the highlights from last year's show. As we get closer to our upcoming show, keep an eye out for exciting announcements. 2015 is going to be another great year! Mark your calendar for January 17-18, 2015 at the Eastern States Exposition, 1305 Memorial Avenue, West Springfield. You know the place, it's the Home of the "Big E" It is going to be a great weekend filled with fun and excitement. See you there!