The Main Stage
The Main Stage at the Springfield Motorcycle Show offers lots of entertainment throughout the show. Great rock music, the Motorcycle Fashion Show, the Tattoo Competition, and our big show awards ceremony all take place on the Main Stage.
_________________________________________________________________
All of the information below is from the 2016 Springfield Motorcycle Show
_________________________________________________________________
Come down to the show and enjoy listening to the band. Shovelhead will be playing live up on the Main Stage during both days of the show. No question about it, you'll hear their Hard Drivin' beat all weekend long!
The main stage is not just for playing live music, we also will have many get events taking place on this stage throughout the show. First up is the Motorcycle Fashion Show.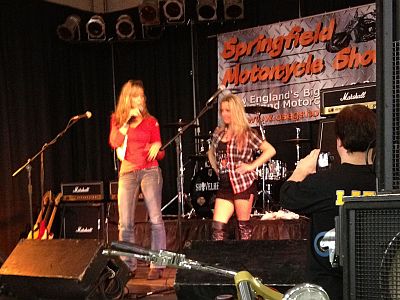 Motorcycle Fashion Show
Everyone loves checking out all the new fashions of the season at the Motorcycle Fashion Show. Get ready for the riding season and pick out some new stylish gear for the open road.
This year the Motorcycle Fashion is sponsored by the Haymond Law Firm and the Haymond Girls will be taking the stage, so you know it's going to be a fun time.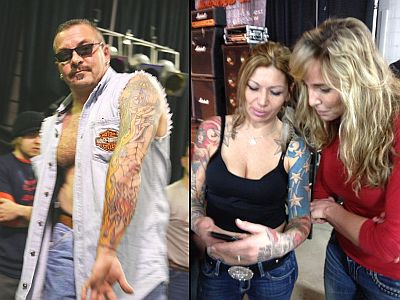 After the Motorcycle Fashion Show, we'll keep the fun going with the Tattoo Competition.
Proud of your Ink? Willing to show it off to a crowd of fellow bikers? Maybe you have what it takes to enter this year's Tattoo Competition at the Springfield Motorcycle Show.
Leslie of Lazer 99.3 will be overseeing the event and we're confident she have a geat prize for the winner.
Awards Ceremony
The culmination of the whole show, is our Awards Ceremony. This year there will be two award presentations taking place on the Main Stage.
The first will be for the Northeast Best of the Best Build-Off and our final presentation of the night will be for the annual Springfield Motorcycle Show Bike Competition. Both events were sponsored by the Haymond Law Firm.
The Bike Competition is judged by both the public and our esteemed professional judges. This special awards ceremony pays tribute to the owners and bike builders of the best motorcycles in the Northeast.