Jim Doyle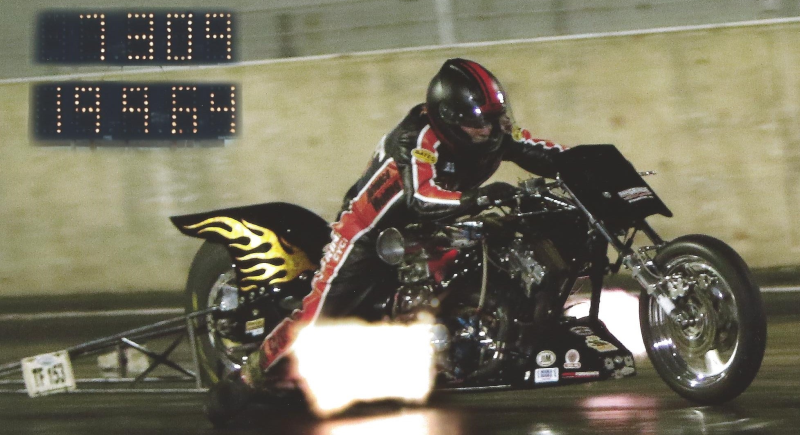 SMS SPECIAL GUEST
Local Drag Racing Star: Jim Doyle
This year we have a very special guest for all our drag racing fans. Local drag racing champ Jim Doyle. Jim has been on the drag racing scene for over 30 years. Professional Drag Racing is in his blood and Jim know everything it takes to win. With 7 National Championships and 19 National Records, you know this guy is at the top of his game.
If you have never been to a motorcycle drag race, you need to check out this amazing sport filled with plenty of thrills and excitement. Teams work for long hours on the bikes, but when it is race time, everything happens in mere seconds. Motorcycle drivers race down a drag strip focused on two goals. Get the quickest time and gain the highest speed on typically a quarter mile track.
Jim's accomplishments have been well reccognized. Here are his comments about breaking the AMRA Nitro Funny Bike Record which can be seen on Dragbike.com.
"After finishing runner up in the 2014 AMRA Nitro Funny Bike points, I was really looking to start off this season better than last year." said Jim Doyle "My goal entering this weekends 4th Annual Cajun Blowout Nationals was to take the Nitro Funny Bike MPH record, Qualify #1, and of course to win the race, which would have given our team the points lead. Right off the trailer I ran a 6.89 at 211.36, to break the class record next round a 6.851 at 213.92. After that run we returned to the pits and made a gear change.
Our next round was even more exciting, We ran a 6.761 which made up #1 Qualifier. The first round of eliminations, We won with a cylinder out. Second round we won again with a 6.797 at 216.29 to now break my own record, but was unable to back it up as we smoked the tire in the finials. We are ready for a good showing in Bowling Green next month!"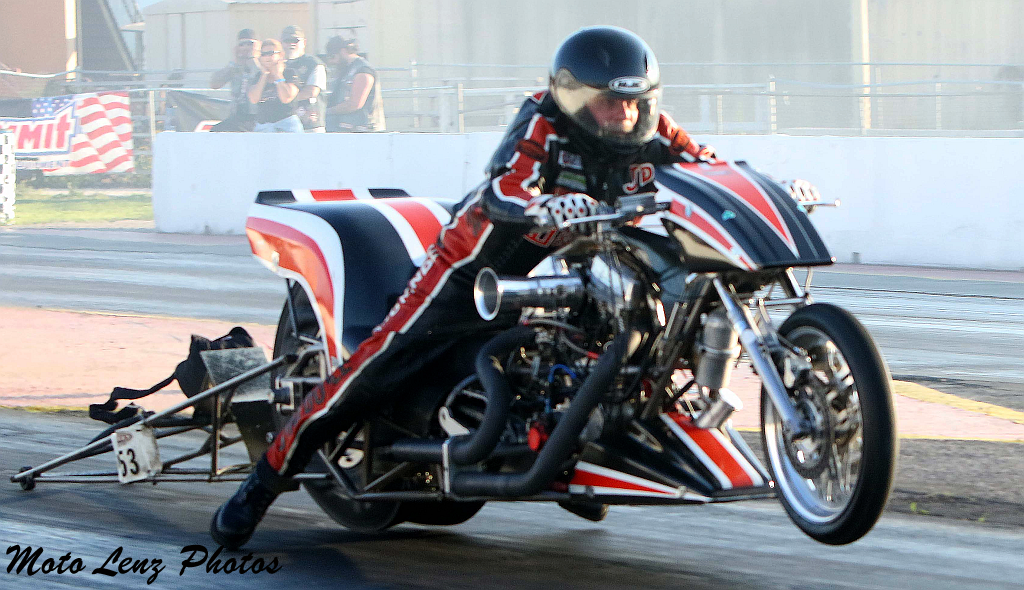 Championships
• 1987 Drag Bike USA Super Fuel Pushrod Class First Place
• 1988 AHDRA Pro-Dragster Second Place
• 1989 ECRA Pro-Dragster First Place
• 1990 ECRA Pro-Dragster Third Place
• 1991 AHDRA Pro-Fuel First Place
• 1991 ECRA Pro-Dragster First Place
• 1992 AHDRA Pro-Fuel First Place
• 1992 ECRA Pro-Dragster First Place
• 1993 Pro-Star Pro Dragster First Place
• 2014 AMRA Nitro Funny Bike Second Place
Records
• 1987 Drag Bike USA ¼ mile 8.4 seconds ET
• 1987 AMRA ¼ mile 158.00 MPH
• 1988 AHDRA ¼ mile 131.00 MPH
• 1988 AHDRA ¼ mile 149.25 MPH
• 1991 AHDRA 1⁄8 mile 141.37 MPH
• 1991 ADHRA 1⁄8 mile 5.009 seconds ET
• 1991 ADHRA 1⁄8 mile 4.89 seconds ET
• 1991 ADHRA ¼ mile 7.99 seconds ET/164.23 MPH
• 1991 ADHRA ¼ mile 7.95 seconds ET
• 1991 ADHRA ¼ mile 174.82 MPH
• 1991 ADHRA ¼ mile 7.81 seconds ET
• 1991 ECRA ¼ mile 7.844 seconds ET/176.4 MPH
• 1991 AHDRA Pro-Fuel Mechanic of the Year to Carl Mogilka
• 1992 AHDRA 1⁄8 mile 4.79 seconds ET/151.79 MPH
• 1992 AHDRA ¼ mile 176.02 MPH
• 1992 AHDRA ¼ mile 7.8-0 seconds ET
• 1992 AHDRA ¼ mile 180.90 MPH
• 2014 Lebanon Valley Dragway Track Record 6.606 seconds at 205.56 MPH


About the Nitro Funny Bike

In its class, bikes are limited to a 151 cubic inch motor and a 13" rear tire, with a single speed transmission. This bike will be competing in the American Motorcycle Racing Association's Nitro Funny Bike class for records and a national championship. The nitro funny bike will also be capable of racing in the NHRA's Top Fuel Harley class.

This incredible machine was built thanks to the generous support of Jim's many sponsors. To compete in this highly competitive sport, every motorcycle team needs to have a great group of sponsors backing their efforts. The Jim Doyle Racing Team is not exception. With a solid group of sponsors behind him and a dedicated crew, Jim works hard to clock out faster times and speeds than ever before.

Come down to the show and meet Jim Doyle, then be sure to head out to the track during the year and see him fly down the drag strip! You'll be glad you did. Who knows you may even witness a new record.
SPONSORS
TSI Harley Davidson, Ellington, CT
Genden Auto Parts, Springfield, MA
B&R Machine, Ludlow, MA
Ludlow Printing, Ludlow, MA
Boulevard Machine, Springfield, MA
Garry's Jeeps Chicopee, MA
Advance Welding Springfield, MA
Rear Tires Supplied by Ronnie Ludlow, MA
Denny Cove Welding West Springfield, MA
Blarney Stone Tavern Springfield, MA
McCarthy's Tavern Springfield, MA
O'Brien's Corner Springfield, MA
Classic Auto Restoration Springfield, MA
Law Office of Trantolo & Trantolo, CT
Jim Doyle Heating Chicopee, MA
Transportation by Al Shatero Granby, MA
All Hose Technology East Longmeadow, MA
Stay up to date with the lastest on Jim by visiting the Jim Doyle Racing Page on Facebook.