The Springfield Motorcycle Show is a high-end, top shelf motorcycle event that brings together a great combination of bike builders, manufacturers and retailers in a rocking atmosphere that delivers fun and enjoyment for the whole family! Mark your calendar for January 17-18, 2015. This two day mega event is the ultimate one-stop shopping experience for both future riders and active motorcycle enthusiasts.
Our retail show is filled with the new bikes of the season, all of your favorite used models as well as the latest motorcycle parts for all the popular brands and of course a ton of cool bike accessories. In addition you can find all the best riding gear and apparel in a vast assortment of colors and sizes.
In addition to all of the amazing shopping opportunities for bikes and motorcycle gear, the show is packed with fun features and events.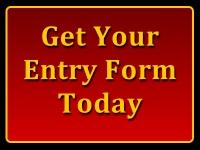 This year the Haymond Law Firm is sponsoring both of our big motorcycle events.
First up is the 2014 Bike Competition. It is time to get your entry form in. Do you have what it takes to win? This highly anticipated event draws bike enthusiasts from all over. Participants enter for cash prizes and the honor and bragging rights associated with winning the Northeast's Top All-Brand motorcycle event!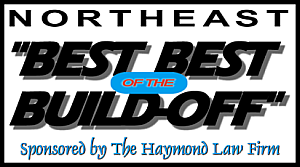 We like to call it the Best of the Best Build-Off and for good reason. Each year we seek out expert builders who are passionate about their craft, have a bold competitive spirit, and are truly masters of metal. This year we are planning a three way battle. The Haymond Law Firm will be sponsoring this incredible wrench fest and each day will be filled with excitement right up to the awards ceremony.
Are you ready for the big line-up? We are pitting
Jake Cutler of Barnstorm Cycles versus Justin Reid of Longwood Customs versus
Nick Beaulieu of Forever Two Wheels.
Let the battle begin! Come down to the show and watch this live event as the guys work throughout the show. Only one will be honored the Northeast's "Best of the Best!" Who will it be? What will they build? There is only one way to find out. Head down to the motorcycle show and catch all the action!
This year we are thrilled to feature one of the Northeast's premiere air brush artist's, Joe Ventura of Joe V Designs.
Joe is an airbrush artist extraordinaire. We have seen this incredible talent develop over the years. In addition to his own impressive skill, he has also put together a top notch team of experts. Together, they offer the highest quality paint work around. At Joe V Designs, transforming something ordinary into a sensational work of art is all part of a days work.
Joe V Designs has over 3,000 awards for excellence in painting and Joe is one of only 7 certified Bauer Hockey painters in the world!

Come down to the show and meet this amazing artist and see the latest work from Joe V Designs!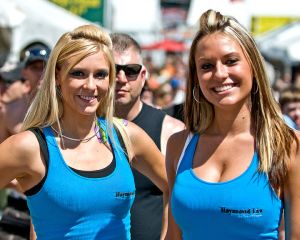 The Haymond Girls are coming to the Springfield Motorcycle Show.
The girls have developed a huge following of fans. You'll find them at area bike rallies, shows and charity events representing the Haymond Law Firm and spreading the word about the joy of riding and being a part of the motorcycle community.
Ask them and they will tell you they love their job. So, be sure to stop by the Haymond Law Firm booth to meet the Haymond Girls and catch them during this year's Motorcycle Fashion Show!

That's right you can be a part of the show! Leslie of Lazer 99.3 will be your MC for this wild event that is always a big crowd pleaser. It's time to show off your ink. This year, the competition is sponsored by City Limits. Be sure to stop by their booth and check out all of their merchandise. They carry name brand apparel, tobacco products, artwork, tattoo products, incense, jewelry, fine art, posters, and so much more!
So if you have a tattoo, we want you to show us your ink! Who knows you may become this year's winner of our Tattoo Competition.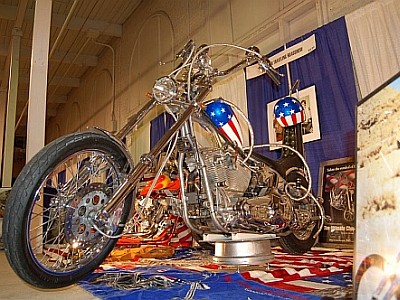 A crowd favorite for the movie buffs is the Easy Rider Traveling Road Show. In this special display, you can see a real Captain America and Billy bike. These two classics styles of old school motorcycles were made famous during the cult classic film, Easy Rider. Come see the bikes along with a huge collection of movie memorabilia.
These are just a few of the highlights of our upcoming show.
There will be so much more happening during our two day show.
2015 is going to be another great year!
Mark your calendar for January 17-18, 2015 at the Eastern States Exposition, 1305 Memorial Avenue, West Springfield. You know the place, it's the Home of the "Big E" It is going to be a great weekend filled with fun and excitement. See you there!