Jay Teske, Owner
Pirate Upholstery
25 Broadway
Kingston, NY 12401
718-909-0764
www.PirateUpholstery.com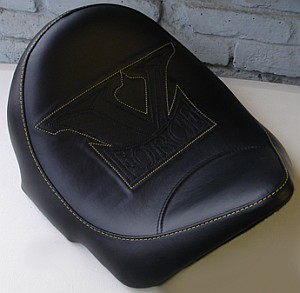 Pirate Upholstery specializes in customizing existing stock motorcycles seats including lowering, reshaping, gel & memory foam inserts, leather tooling and appliqué designs. They also make high quality top cases for rear racks out of bridle leather – these top cases will outlast the bike!
Pirate Upholstery makes seats for individual customers as well as for bike shops such as V-Force & Paul Jr. Designs in addition to dealers nationwide.
90% of their business is mail order and the turn around time is approximately four to six weeks.
| | |
| --- | --- |
| | Pirate Upholstery is owned and operated by Jason Teske. He started doing custom motorcycle seats on the side while tattooing full-time in Staten Island back in 2004. In 2006, Jay and his wife quit their jobs and travelled to South East Asia for six months, riding around on an early 70's Russian Minsk they bought for $400 in Vietnam. They ran the bike into the ground by riding on "highways" consisting of mud, rocks and sand. Upon their return, Jay opened up Pirate Upholstery in New Paltz, NY and it's since been his full-time gig. In 2008, he moved the shop to a storefront in Kingston in order to connect with the local biker community. |
Find out more about Pirate Upholstery at their website: www.PirateUpholstery.com