Odin's Axle Restoration

A Divine Calling
Many great bikes are lost to the ravages of time. For what ever reason, their owners loose interest and they are sold to others who lack the appreciation of their beauty. Many are neglected or even worse they are stripped down to parts for some other project. It happens all the time.
Ah yes, but Odin's Axle was named in honor of the ruler of Asgard as foretold by Norse mythology. With this in mind, we begin our tale.
We travel back in time to the year 2002 when Donna and Darryl Smith of Rochester, New York were looking for a bike project for Donna. They went to a local winter/spring swap meet. Donna was excited to find something, because it was her turn and she eagerly made her way around the meet looking for something to catch her eye. It was not long before she was drawn to Odin. Nothing like it's former self, the motorcycle was on a homemade bike lift on top of a trailer and resting about 6 feet in the air.
The Smith's looked and talked about this rolling chassis for about 3 hours. Darryl recalled Odin's Axle. He saw the bike when he was a kid at a motorcycle show in Buffalo, New York. The memories of this really cool old handmade chopper still fresh in his mind.
The seller explained that the panhead motor and transmission were previously taken out and sold before he bought the bike on the internet. When he retrieved the bike, he was not happy with his purchase, so he decided to sell it at the first swap meet that he could. Donna was also told that Ron Finch had retired and sold his shop.
Things look gloomy for Odin's Axle, but the Smith's for some reason hear Odin's call and buy the frame.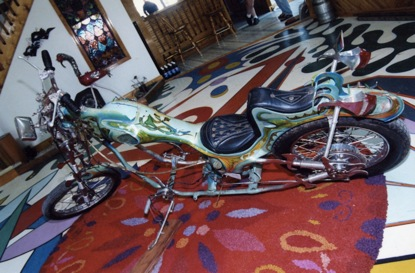 Since a panhead motor was originally in the bike, the Smith's tossed around the idea of interchanging Donna's '52 pan motor and transmission into the bike for a Summer after which the bike was put in storage at their local bike shop.
This is where things get interesting. While in storage, some people recognized the bike as being a Finch bike. Then someone gives Darryl the phone number for Ron Finch.
It's was that moment that Donna Smith truly felt the call of Odin's Axle. Odin wanted to be restored to it's former glory.
A spark had ignited in that old soul and it wanted to be heard. Every day Donna would hear the name Ron Finch.."call him." she thought, and then she'd think, "but I was told he retired and sold his shop."
Odin's Axle was persistent. It wanted to be restored. It would not relent.
After being driven nuts on a daily basis, Donna finally took the plunge and called Ron. Like a divine plan that was already set in motion, the timing could not be better - it happened to be Ron's birthday!
"I remember telling him that I had Odin's Axle and the bike has some sort of spirit, it's driving me nuts and would he be interested in restoring Odin's Axle."
Odin's Axle returns to it's maker!
The Smith's bring Odin to Ron on the week of the 4th of July, Ron had just built a studio and work shop. Timing was perfect and just in the nick of time. Ron said the bike was on the verge of not being salvaged and he had to think about redoing the project.
The decision was made. The Smiths would do the motor and transmission and Ron would bring Odin's Axle back to life in a way that only Ron Finch can do. Odin's called him too.
Bumps in the road..
A little hold up was finding a reasonably priced panhead motor and transmission. Then on one of the trips to see the Odin paint job, one of Ron's friends had a "rat pan" for sale... needless to say the other half of the project was now underway. Once Odin was done the bike stayed at Ron's for over 6 years, going to shows and being put on exhibit in museums.
Odin's Axle returns to it's rightful place in the spot light!
Odin was invited to travel with an exhibit called "Art of the Chopper," which went to several other prestigious museums, such as the Clinton Presidential Library and Museum, and others. Donna recalls that time, "Having a tractor trailer pick up your bike from your house is really cool."
When asked what she thought of her journey with Odin's Axle, Donna Smith will say, "I truly enjoy watching the public's reaction to the creativity and craftsmanship that has created one of the most famous controversial bikes ever. Odin is not only designed with two different artistic schemes, axes on one side and Ron's famous bent rod work called "frenching" on the other, but also it walks in two worlds, the motorcycle world and the art world. And YES Odin's Axle is totally road worthy!"
And so ends our tale of Odin's Restoration.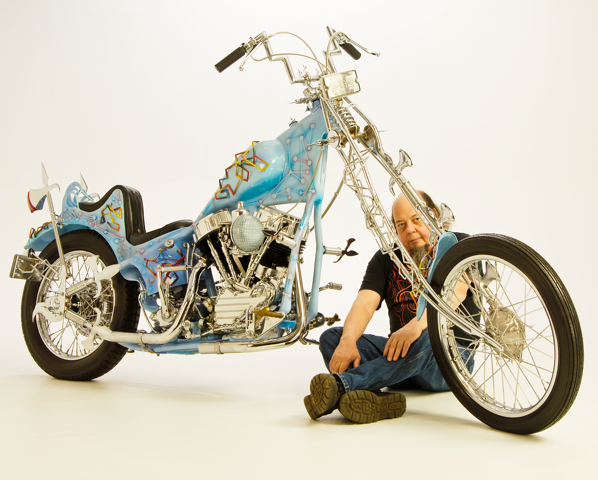 The Smith's could not be happier. "We are truly thankful and blessed to have forged a life long friendship with Ron and Ruth Finch, and the Finchmen. Whenever we get together, there is always a good time with an adventure. And I am truly thankful to have a husband who is my best friend who never tells me no, no matter what crazy project I have come up with."
Come Odin's Axle in all it's glory at the Springfield Motorcycle Show. Meet the Smiths and learn more about their amazing journey with Ron Finch and the motorcycle that started it all, Odin's Axle!