Odin's Axle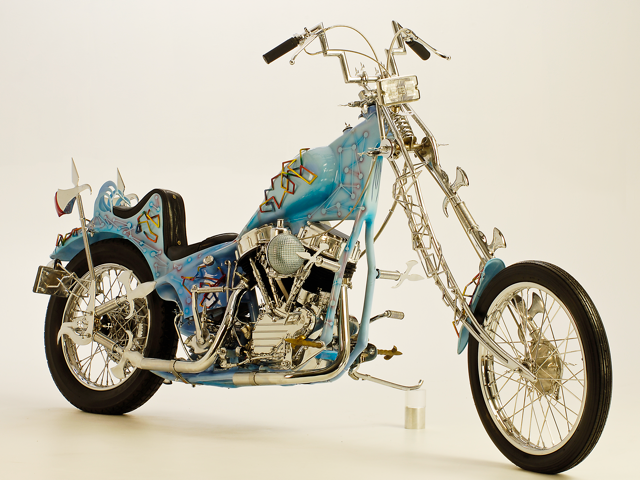 One of the most famous bikes in motorcycle history is Odin's Axle. This incredible custom motorcycle build by Ron Finch will be at the Springfield Motorcycle Show!

To appreciate this famous bike, you need to fist look back in time and learn about the man who built it.

Ron Finch was the mastermind behind Odin's Axle; a bike that was build in 1969 for $10,000 which in today's dollars would be close to $64,000! This amazing bike, would not be here if it were not for Ron's inner strength to break free of the typical day to day grind and open up the possibility of extraordinary creativity and success.

Let's look back. In 1965, Ron established a full-service motorcycle business. He felt that if he could build a successful company it would give him both the time and money to follow his passion of building custom motorcycles. His business grew quickly and before long he had 18 employees, but with all the extra work and responsibility, Ron soon found that his creative energies were being tapped by the rigors of the company he worked so hard to build. Although successful, Ron was not happy and soon made a radical decision that would change his life forever. Ron was not like most business owners, rather than push his dreams and creativity to the side, he chose another path and the motorcycle world is eternally grateful. Ron let all of his employees go and devoted 100% of his attention to his creativity and producing incredible works of art.

Throwing caution to the wind, Ron focused his attention and creative juices on a new project. The end result of this project was the creation of Odin's Axle.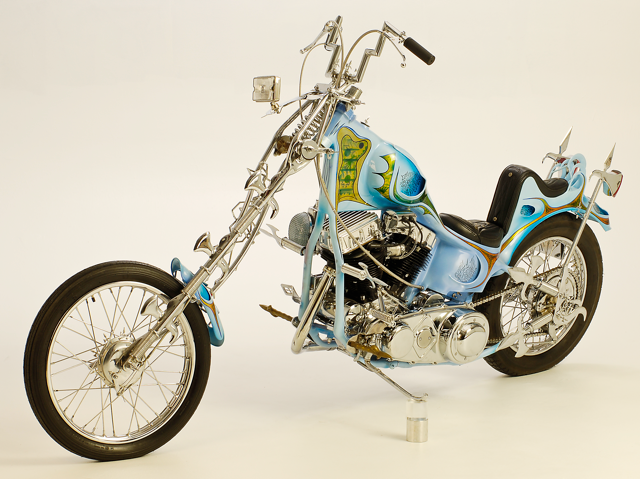 This was Ron's first work of national notoriety. With loads of custom work and a unique asymmetrical design, Odin's Axle quickly got the attention of the public. A tribute to just how visionary this custom motorcycle was, Odin's Axle became the first motorcycle in history to be placed as art in a museum.

Odin's Axle set the stage for what was yet to come. This motorcycle not only started an incredibly prolific career for Ron Finch, but it also set the stage for the custom bike building industry. Featured in over 25 magazines and having been displayed around the country, Odin's Axle has been quoted as being one of the most famous motorcycles in North America.
A Treasure Lost - A Treasure Found
There is no question that Odin's Axle is an amazing treasure of motorcycle history, but like many great treasures, Odin's Axle was lost in time. For what ever reason, Odin's Axle went down a dark road and at the end of it's journey it was gutted down to just a frame. A shadow of its former godly existence. Yes, it is sad, but there is light at the end of the tunnel my friend. This is where the story of Odin's Restoration begins!
Come down to the Springfield Motorcycle Show and see the bike that Motorcycle World named, "Best Custom of the Year!"