John Dowd
John Dowd is a professional motocross racer from Chicopee, Massachusetts. Otherwise known as "The Junk Yard Dog."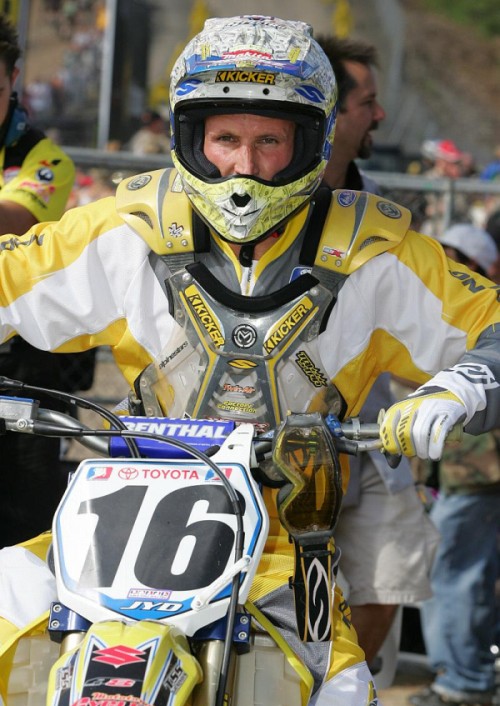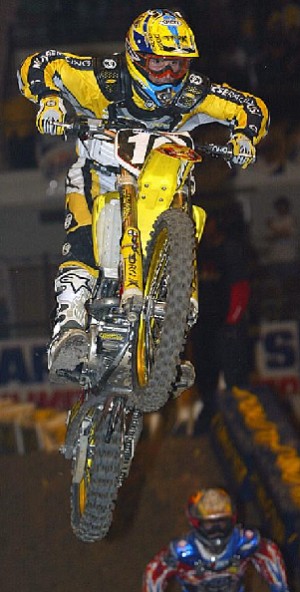 Dowd began racing well into his twenties. Turning pro at age 29. As a result, Dowd has achieved the best results of his career later in life than his typical competitors.
He holds many AMA records including oldest rider to win an AMA National (Southwick 125cc, 1998), oldest rider to win a Supercross championship (125cc West, 1998), oldest rider to win a National moto (Mt. Morris, 2000), and oldest rider to finish on the podium in an AMA National (Southwick 250cc, 2005).
Dowd has been a podium contender in AMA Motocross and Supercross competition for almost 20 years!
His greatest strengths are his stamina and endurance, enabling him to ride hard for the entire moto.
Considered a specialist on sand tracks, John finished on the podium in 3rd place at the 2005 Southwick 250cc National just shy of his 40th birthday, aboard a privateer Suzuki RMZ450.
On August 30, 2009, on a rainy and muddy Saturday afternoon at the Lucas Oil AMA Pro Motorcross Southwick National at Motocross 338, The Junkyard Dog had his day. Riding his Kawasaki KX450 on his home track, Dowd, 44, finished second in the 450 class Moto-2 and took 3rd overall.
John Dowd, found the podium once again!
Looking for more info about John? Here is a bio filled with interesting facts about John Dowd.

John Dowd Bio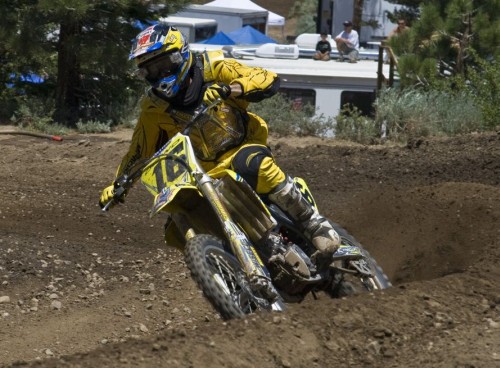 Name: John Dowd
Birth Date: 8/10/1965
Marital Status: Married
Height: 5' 11"
Weight: 180 lbs.
Number: 16
Year Turned Pro: 1986
Nick Name(s): Junk Yard Dog, Dowdy
Nick Name Reason: I grew up in a Junkyard and my riding style was always rough around the edges.
Hair Color: Light Brown
Eye Color: Hazel
Family: Married 1996 to wife Tricia Children – Ryan 12, Callie 9. John has a brother Mike 46, brother Tom 39, and sister Sharon 33
Favorite Color: Yellow
Favorite Food: Can you say…fast food junkie -
Favorite Music: Top 40 - alternative
Favorite Singer/Band: Godsmack
Favorite Movies: Happy Gilmore, Wedding Crashers and Bad Santa
Pets: Dog – Casey, Cat – Paxil, Kitten - Tipsy
Idols: Rick Johnson, Ricky Carmichael
Favorite Riding Area: Southwick or anything with lots of sand
Previous Injuries: Broken R leg, Bilateral ACL surgeries, Broke both Arms, Broken collar bone 3X, Separated shoulders x4, Broken vertebrae in back, Broken and dislocated L shoulder, broken ribs, broken toes & fingers, broken cheekbone, many stitches.
Previous Accomplishments: 1st ever Snocross – 2/7, 2/8/09 Mammoth – King of Mountain – 08 30+ & 40+ Champion Southwick 08 6th overall at age 43 Endurocross Champion – 06 Farewell Tour – Outdoor Nationals 05 Canadian National – 3rd overall - 04 Arenacross series – 3rd overall -04 125 West Coast Supercross Champion – 98 2nd overall 125 Overall Nationals -98 2nd overall 250 Outdoor Nationals – 97 3rd Overall 125 Outdoor Nationals – 96 2nd Overall 250 Outdoor Nationals -94