Dinah DeVille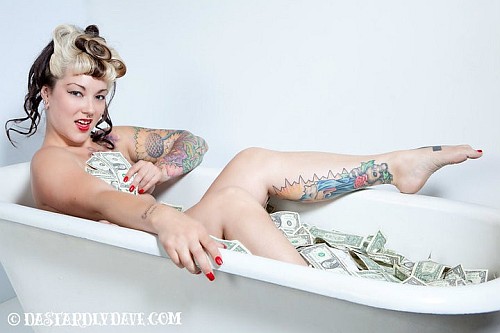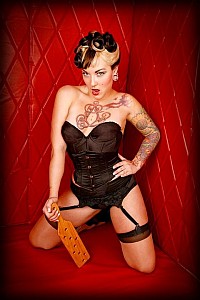 Dinah DeVille appeared at the Springfield Motorcycle Show! Dinah was at the New England Biker booth all weekend.
Miss Dinah DeVille is a renowned burlesque queen and pin-up extraordinaire with a weak spot for loud pipes, metal flake and air-bag suspension.
A once classical ballet dancer who couldn't be contained, she has taken her strict ballet background to a whole new level, gracing the stages donning her hand made costumes and feather fans, making audiences all hot and bothered everywhere she shimmies and shakes.
Perhaps even better known in the scene as a pin-up and fetish model, her curves have appeared places like The Variant Ball at Sin-O-Matic, The Greater Boston Burlesque Expo, the pages of Legshow Magazine, multiple issues of Retro Lovely Magazine, performing alongside the Boston Babydolls and Atomic Trash! In addition, she's seen modeling for various companies and designers such as Dawnamatrix Designs, Hey! Sailor Hats and Cupcake Provocateur.
Just take a look at some of the sexy pictures of Dinah DeVille in our pin-up gallery and you'll be convinced that the New England Biker booth will be a "must stop" location at the Springfield Motorcycle Show.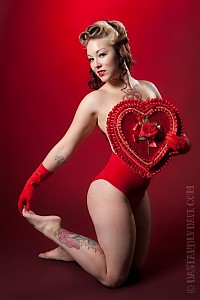 Born and raised in Massachusetts, Dinah earned a Bachelor in Fine Arts at Mass. College of Art and Design, concentrating on metal fabrication, welding and costume design. (yes boys, she can weld!)
She's now focused on adding tattooing to her resume, and currently hauling ass in all departments. You can expect to continue to see new and exciting work from Miss DeVille.
Come meet her down at the Springfield Motorcycle Show. She will be at the New England Biker booth all weekend.