Joe Dean's All Customs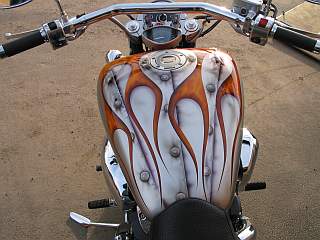 Airbrush Artist Extraordinaire
Joe Ventura, owner and operator of Joe Deans all-Customs located in Chicopee MA. is one of the leading 'custom graphic artists' in the country.
Joe V's airbrush artwork made the customers of the Springfield Motorcycle Show's heads spin. Fantastic flames and outrageous artwork.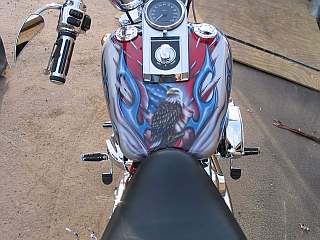 Joe's artwork can be seen on many of East Coast Chopper Works 'one-off' choppers. In addition, Joe has also done art work on professional hockey masks for Dwayne Roloson (Edmonton Oilers hall of fame helmet and currently working on his new game helmet) and many other players.
Each custom job that Joe produces is a one of a kind piece of art.
This multi-talented man is also the front-man for the Northeast's top Bon Jovi tribute band "JOVI."