Eagle Eye Paint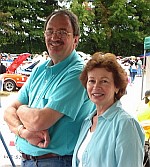 Meet Rick and Cheryl Champagne of Eagle Eye Paint. Rick & his wife Cheryl are long time attendees of the show and we were happy to have them with us at the Springfield Motorcycle Show.
Rick has been painting custom vehicles for over 35 years. He is dedicated to creating eye stopping show pieces that grab your attention. His number one goal is customer satisfaction and he achieves this by working closely with his clients. Starting out with beforehand pre-sketches and continuing with in-progress photos, Rick allows input from clients throughout the job. He can work from your reference material or he can create the image you are looking for from your description and his creative flair.
When it comes to Eagle Eye Paint, there is no "cookie cutter" artwork -- each piece is created to fit your bike and personality.

Rick's shop is at his residence in Uxbridge MA just south of Worcester MA.

When asked about the show, Rick commented, "We especially enjoy the great atmosphere of the show, the people running the show and the friends we meet at the show."

Thanks Rick.
If you would like to find out more about Eagle Eye Paint, be sure to visit their website at http://www.EagleEyePaint.com