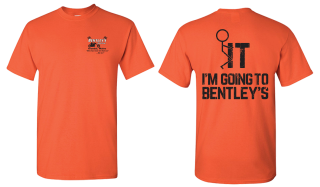 The Northeast's 'Most-Fun' Biker Destination will be at this year's show as our new 'T-Shirt Sponsor!" Keeping that in mind, expect to see some really cool shirts thrown from the Main Stage all show long!
If you're not familiar with these great folks of the Northeast, they bring fun and exciting activities to the biking community all riding season. They run a wonderful Pin-up Girl Competition and and if you submit some picks of your bike it could be chosen for the models to pose on for the calendar!
Bentley's are famous for their annual motorcycle give-away too, so be sure to ask them about that while you are down at the show.
Bentley's, where their motto is: "Who has more fun than us?... We do!"
Stop by the Bentley's booth at the show and if you think your bike can handle a few beautiful girls posing on it, then make sure you bring a few pictures of your bike and enter it in this year's Miss Bentley's Saloon Pin-Up Girl Contest.
Ladies, if you want to take a shot at being one of the models, we got you covered as well. Just download the contest form and drop off your entry at the show.